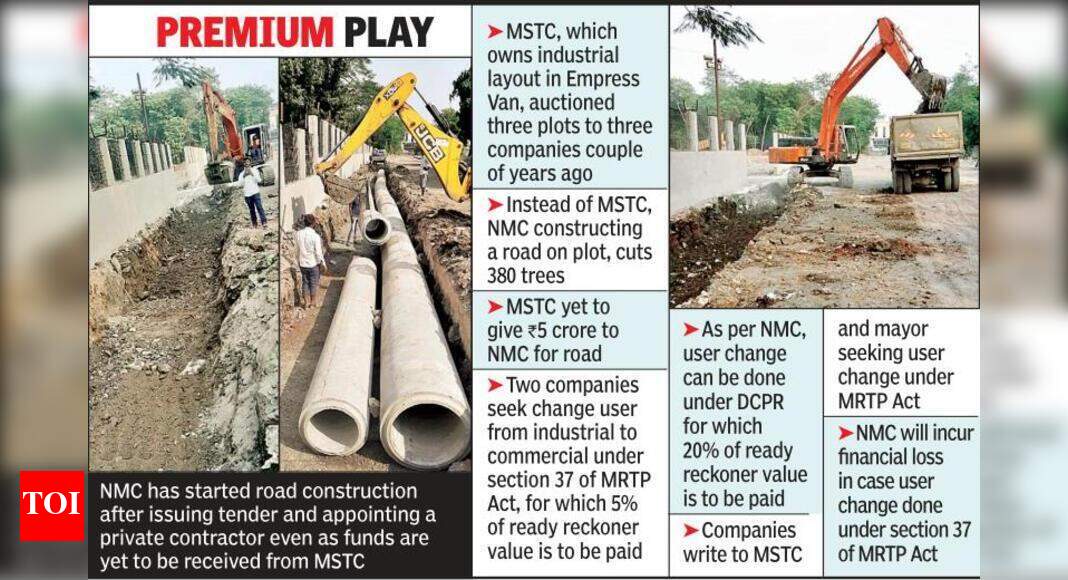 NMC faces loss as cos plan user changes plots at Empress Van | Nagpur News
Nagpur: Adding fuel to controversy, two private companies attempt to switch users of their industrial land to Empress Van under section 37 of the Maharashtra Town Planning and Town Planning Act (MRTP) under provisions that would require them to pay a lower premium amount.
If this happens, the cash-strapped Nagpur Municipal Corporation (NMC) will suffer financial losses as has happened in other cases in the past.
Controversy erupted a few years ago after NMC proposed to build a road from Empress Van by cutting down 380 trees. The Maharashtra State Textile Corporation (MSTC) is supposed to build the road because it owns the Empress Van industrial route.
Although funds have not yet been received from MSTC, NMC has started road construction after issuing a tender and appointing a private contractor. Trees were felled followed by the execution of works such as the installation of a storm drains, leveling of the land for the road, etc.
Activists, including lawyer Ankita Shah, had alleged that the civic body was doing this for the benefit of three companies that bought sprawling plots in the network.
A few years ago, Royal Sandesh Business Park LLP, Orange City Garment Park and Acharya Shree Vidyasagar Garment Vyapari Welfare Society purchased Plots Nos. 1, 2 and 8, respectively, from MSTC.
The companies proposed commercial projects on the plots of which the user is industrial. It requires a change of user from industrial to commercial.
Last year, Royal Sandesh Business Park LLP and Orange City Garment Park filed an application with Urban Development Minister Eknath Shinde asking for user fees under section 37 of the MRTP Act.
Under this provision, companies will have to pay 5% of the net book value of the plots. The state government and NMC will each receive a 50% share.
The Urban Development Department (UDD) has asked the NMC to submit details. NMC has stated that change of user under section 37 of the MRTP cannot be allowed, but that there is a provision to change user from industrial to commercial under clause 10.3. 3 of the Regulation on the Control and Promotion of Development (DCPR) under which a premium of 20% must be paid.
NMC has not yet received a response on this matter.
It emerged that the two companies recently sent letters to MSTC and forwarded a copy to Mayor Dayashankar Tiwari to request a change of user under Article 37 of the MRTP law.
Confirming this, Royal Sandesh Business Park LLP Director Ramdeo 'Rammu' Agrawal told TOI that some traders got together and bought the plots. "We proposed the project to relieve congestion Itwari, Gandhibagh and surrounding areas. It is in the interest of the public and the city. We are looking for a change of user under section 37 of the MRTP law, which is fully legal and permitted. We will have to follow any decision taken by the government and the NMC, "he said.
There are trees on two of the three plots. The region also has more trees threatened by the development of commercial complexes.
FacebookTwitterLinkedinE-mail