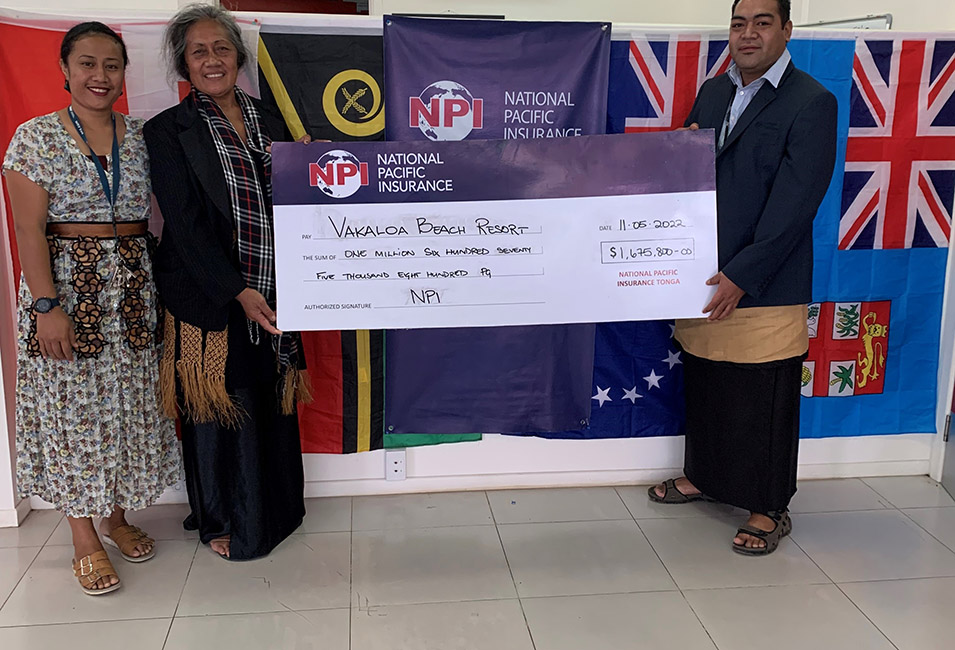 The devastated Vakaola Beach Resort has paid a $1.67 million insurance claim
Vakaloa Beach Resort, received a $1.67 million insurance claim from National Pacific Insurance after the resort was wiped out by the January 15 tsunamis.
It was one of the biggest claims in the region that was hit the hardest.
"Nowadays, NPI has paid New Zealand$7.6 million in claims related to the Hunga Tonga-Hunga Ha'apai volcanic eruption and tsunami," said NPI Manase Tafea, country manager of Tonga.
The owner of Vakaloa Beach Resort, Marian Tukuafu, expressed her gratitude for NPIsupport.
"Thank you so much to National Pacific Insurance for always being there for us in the bad times, during Hurricane Harold and the Tsunami."
The station has been a client of NPI since 2010 and this is the second time that a major claim has been paid. In 2020, Cyclone Harold damaged much of the station, at that time NPI also paid a claim of approximately $774,000 Pa'anga.
The station employed about 30 residents and attracted many visitors to the area.
Tower insurance
Meanwhile, NPI was purchased by Tower Insurance in November 2021 and will officially be renamed Tower in the coming months.
Pacific operations tower manager Ali Wilkinson said insurance is vital across the Pacific, including areas like Tonga which are prone to major weather events.
"Insurance is a crucial tool for community and economic resilience and protection. As the largest insurer in the Pacific, we remain in a strong position to continue supporting Tonga's recovery, so remember we are here to help.